Innovative fare payment systems prove popular with public transport users
8 february 2021
Cashless payments for public transport tickets are highly rated and widely expected by passengers, as confirmed by the sales results in the locations where the Mint of Poland launched its innovative ticket payment solutions over the last months. The figures show that public transport users in Bydgoszcz and Włocławek are keen to take advantage of the new functionalities to pay for their tickets via mobile ticket vending machines or to buy season tickets stored on a contactless card.
"Select, Touch & Ride" is the catchphrase that best describes the simplicity of fare payment for public transport users in the Mint of Poland's mobile ticket vending machines installed on buses and trams. As the last three-month sales results show, the option of purchasing a season ticket stored on a contactless card is also being readily used, with passengers in Bydgoszcz being Poland's first to take advantage of the company's innovative season-ticket-on-bank-card scheme.
Open Payment System gaining ground in Włocławek
The quick, reliable and intuitive purchasing experience provided by the multiple award-winning Open Payment System (OPS) perfectly fits the needs of public transport users. The option of paying the fare by contactless card or a smartphone using HCE or NFC technology in the OPS mobile vending machines was made available in Włocławek only mid-November last year. While in the first two weeks after the launch just over 1,400 tickets were purchased via the OPS, there were over 4,600 of them in December and in January – nearly 5,500.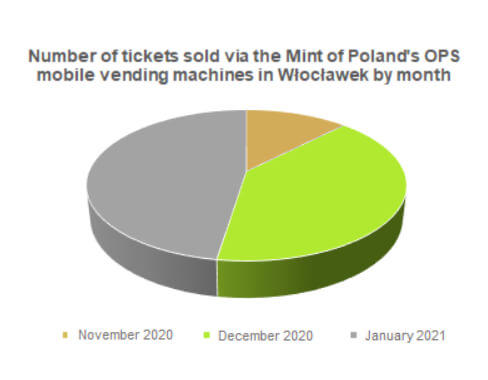 "Despite the still limited use of public transport due to the pandemic, the last three months have proven our decision to implement a new fare payment solution onboard our buses and trams to be right. As with any innovation, the key to success is the wide availability as well as the reliability, intuitiveness and security of the new fare payment facility. Our OPS technology meets all these requirements," says Jacek Sieński, Sales Department Director of the Electronic Payments Division, Mennica Polska S.A. "Our mobile vending machines have been installed in the entire public transport fleet in Włocławek, that is in 65 vehicles in total. This way all passengers can now benefit from the more convenient and much quicker ticket payment method – without the need to hold a paper ticket before boarding or to wait in a queue to buy one in a stationary ticket sale point."
Just a reminder for all users, when paying for the ticket with contactless card via the OPS terminal, solely the validity of the card is verified. The availability of funds is checked post-transaction only. Consequently, transaction acceptance takes a record short time of just half a second. This is possible thanks to the so-called delayed authorization.

Source: Own elaboration based on the Mint of Poland's
sales figures from November 2020 to January 2021

Bydgoszcz in the vanguard of innovative fare payment system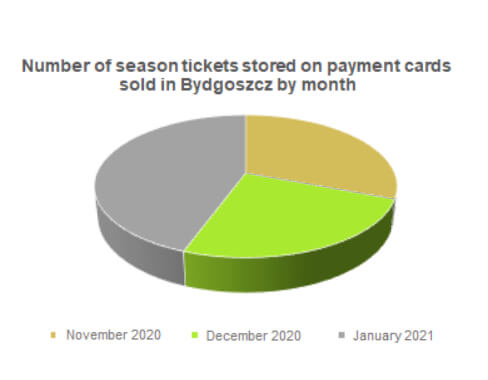 Last September, the Mint of Poland implemented the country's first season-ticket-on-bank-card scheme. All public transport users in Bydgoszcz, as the first ones in Poland, are now able to use their contactless bank cards as proof of season ticket purchase on buses and trams in the city. Over the past three months, sales of season tickets stored on payment cards have grown by over 44 percent in terms of transaction volume and by more than 50% in terms of sales value. Only this January, more than 360 season tickets with the total value of around PLN 30,000 were sold using this functionality.
In the reported period, season-tickets-on-bank-card were purchased for a total of 648 BKM travelcards registered in the Bydgoszcz Municipal Card (BKM) system. Moreover, from last September till now, close to 1,000 new BKM travelcards were registered in the BKM passenger portal. This confirms that public transport users are keen to use the option of checking their purchase history of single-fare and time-barred tickets via the OPS mobile ticket vending machines.



Source: Own elaboration based on the Bydgoszcz Municipal Card system's
sales figures from November 2020 to January 2021

Find out more about the season-ticket-on-bank-card scheme implemented in Bydgoszcz.
Find out more about the Mint of Poland's OPS implementation in Włocławek.