Success of the Mint of Poland – "Chopin's Score" wins award in Moscow
27 september 2016
The coin "Chopin's Score" was awarded the II place in the "Unique Concept" category during the Coin Constellation 2016 numismatic competition in Moscow. Collectible with face value of 20 New Zealand dollars was struck on the occasion of the XVII International Chopin Piano Competition in honor of the world-famous Polish composer.
The "Chopin's Score" coin has been struck in fine .999-sterling silver and decorated with digital printing. The collectible issued by Niue (area of the Realm of New Zealand) weighs 4 ounces and has dimensions of 45 mm and 90 mm. The coin's reverse depicts a dynamic portrait of Frederic Chopin along with a signature of the composer and a hand-written score of the Polonaise in A major, Op. 40, No. 1. The coins obverse features the hands of Frederic Chopin depicted against the piano's keyboard. Next to it we can see the effigy of Queen Elizabeth II along with inscriptions indicating coin's face value (20 New Zealand dollars), year of issue (2015) and the issuer (Niue) respectively. Precision of finishing, limited mintage, fine silver and the effigy of a world-famous composer guarantee the uniqueness of this outstanding coin.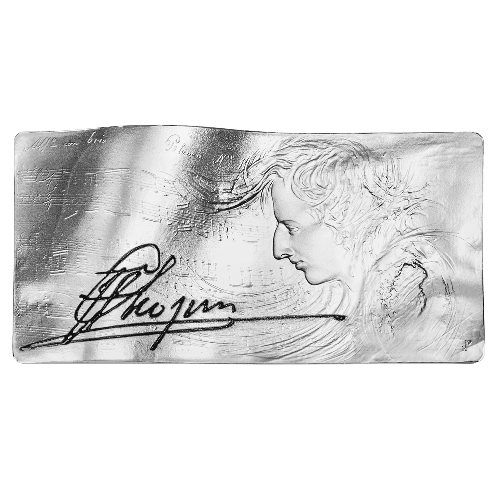 — In order to create a coin in the shape of a curved paper, i.e. the manuscript of Frederic Chopin, we implemented the cutting-edge minting technologies. Having this done, we didn't forget about the Polish composer and his artistic legacy. Consecutive award in the Coin Constellation competition confirms the upmost quality, innovative technologies and creative vision that the Mint of Poland puts into its coinage. — said Siemowit Kalukiewicz, Chief Operating Officer at the Ming of Poland.
The project has been created by Urszula Walerzak, a visual artist and engraver working for the Mint of Poland.
Coin Constellation is an international numismatic competition. This year's edition was held in Moscow during the 7th International Conference and Exhibition "COINS-2016". 240 commemorative coins and 21 numismatic series issued in 2015 by 44 entities from 29 countries were submitted to the competition. An international panel of judges comprised of mint officials, journalists, auction house professionals and international experts in the field of numismatics chose the winners in 9 individual categories: Unique Concept, Successful Artistic Solution, Original Technology, Coin Classic, Souvenir Coin, Silver Coin of the Year, Gold Coin of the Year, Coin of the Year and Series of the Year. Additionally, a Special Prize and award 'for the contribution to the development of commemorative coins market' were presented during the event. Online voting defined the winner of the People's Choice Award.