Pułaski in gold and silver - the Mint of Poland pays tribute to the Polish American hero
7 august 2023
The Mint of Poland has created gold ducats and a silver thaler with the image of General Kazimierz Pułaski – a patriot important to the American Revolution and the Polish battle for independence. The unique investment not only commemorates the hero and his extraordinary story, but also makes for an attractive capital allocation.
Hero in and out of the country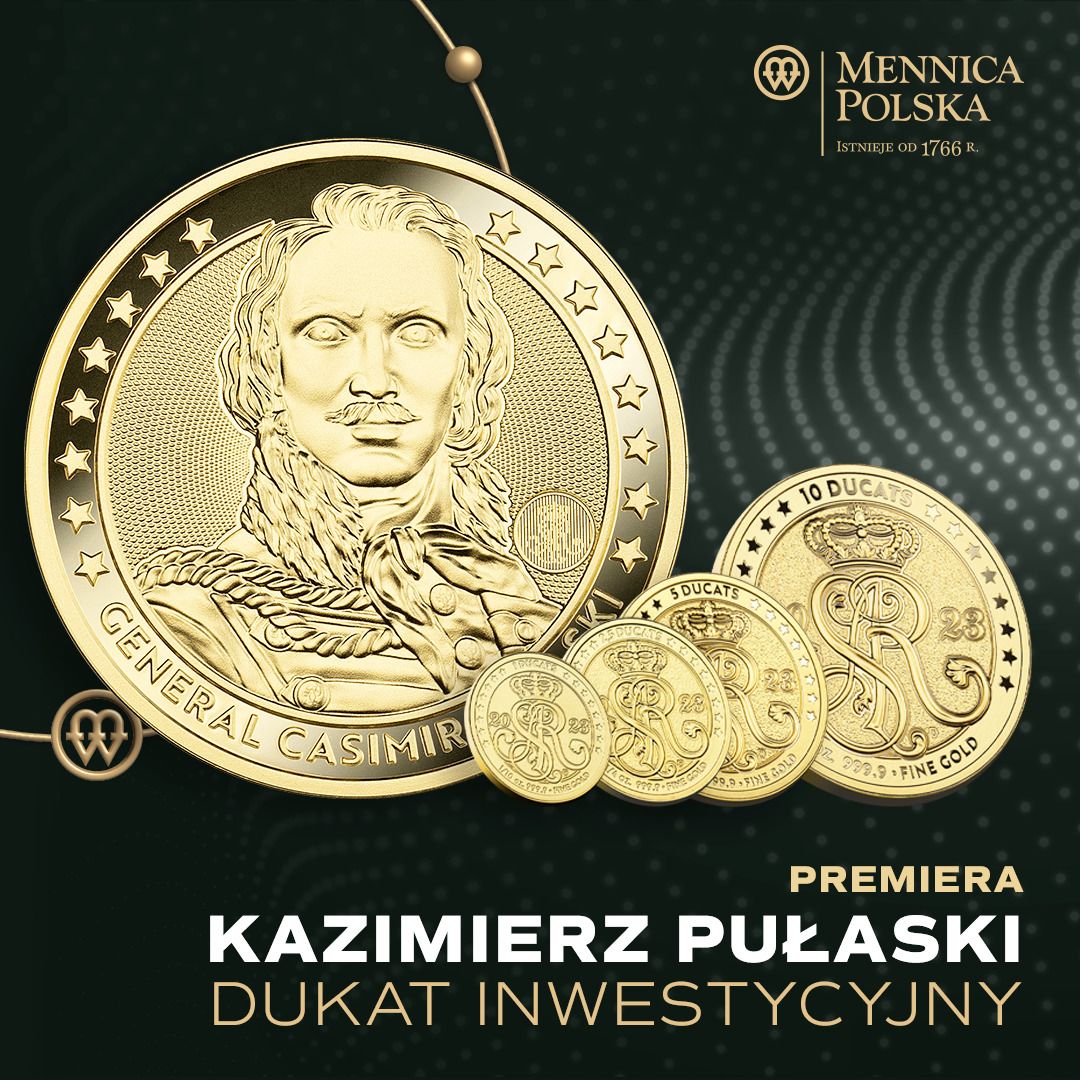 General Kazimierz Pułaski is a hero of the fight for independence both on the continent and across the Atlantic. In Poland, he fought against Russia as a Bar Confederate – his actions against King Stanisław August Poniatowski, however, forced him to flee the country. Eventually, he found refuge in the United States, where he saved the life of the future first US president, George Washington, at the Battle of Brandywine in 1777. He died a hero's death during the Battle of Savannah in 1779.
"The tradition of the Mint of Poland extends back to 1766 - for more than 255 years we have been part of the Polish heritage creating mint masterpieces of the highest quality. The new gold ducats and silver thaler created as a tribute to General Kazimierz Pulaski are not only an investment, but also a piece of history encapsulated in a precious metal," said Katarzyna Budnicka, CEO and President of the Management Board, Mennica Polska S.A.
Extraordinary craftsmanship and a valuable investment
On the reverse of the ducat and the thaler is an image of General Pułaski surrounded by a string of stars. "Kazimierz Pułaski" was minted with an inverted stamp – its obverse and reverse correspond to each other in the vertical direction. Each variant has an additional security feature in the form of an angular effect – the Mint of Poland's MW signet and the royal monogram Stanislaus Augustus - Rex.
The gold ducat is available in four denominations: 10 ducats, 5 ducats, 2.5 ducats and 1 ducat, corresponding to the most common bullion coin weights on the market: 1 ounce, ½ ounce, ¼ ounce and 1/10 ounce of yellow bullion of the highest purity 999.9. The thaler with Pułaski was minted in the denomination of 1 thaler and in the weight of one ounce of 999 fine silver.
Gold ducats and silver thaler, made with attention to the smallest details, will satisfy not only collectors interested in Polish and world history, but also investors looking for a capital investment. The product is available for sale in the online shop of the Mint of Poland.