Lapel pins
We manufacture lapel pins according to individual specifications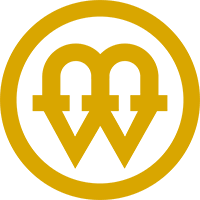 What are lapel pins?
Metal badges pinned to jacket or coat lapels are significant image building tools. Also, they allow you to demonstrate that you belong to a certain community and that you are proud of it. Mennica Polska is a respected manufacturer of badges used for identifying employees and companies, building the company's organizational culture and boosting the motivation of the company's employees. Badges made by Mennica Polska offer clockwork precision and the highest workmanship quality.

Types of lapel pins

Lapel pins manufactured at the Mint of Poland differ in shape, size, relief and color. Thanks to our creative designers, state-of-the-art technologies and highly qualified staff we execute even the most unusual orders.
The Mint of Poland produces various types of lapel pins for corporations, associations, organizations , businesses and universities. Our portfolio embraces lapel pins designed for public institutions and social organizations.
Institutional and individual customers:

Corporate customers:
Institutional and individual customers:
We invite you to place orders:
Danuta Oniszk – Chief Customer Service Specialist
---

tel.:
(22) 656 40 06, (22) 656 45 12

danuta_oniszk@mennica.com.pl
---
We invite you to place orders:
Grzegorz Grabarczyk – Director of Corporate Sales Division
---

tel.:
(22) 656 45 30

grzegorz_grabarczyk@mennica.com.pl
---
Edyta Bielecka – Corporate Clients Manager
---

tel.:
(22) 656 45 34

edyta_bielecka@mennica.com.pl
---
Materials
Depending on the needs of our customers, we create lapel pins from different materials: gold, silver, as well as from other alloys and metals, e.g. copper, tombac, brass and cupronickel. Additionally, we cover our products with galvanized coatings from fine gold and silver. As a result, our lapel pins glisten with an exceptional shine!
Gold- and silver-plated tombac, gilded copper and silver-plated brass are among the most popular variations used to produce lapel pins. Lapel pins are additionally decorated with synthetic and ceramic enamels, pad printing and digital printing. As a rule, colorful pins are covered with resin in order to protect their surface from scratching.
For whom?
The Mint of Poland offers a wide range of customized lapel pins. Most commonly, lapel pins are ordered by companies, public institutions and organizations. They can be executed in gold, silver and alloys. Their surface can be gold- and silver plated, as well as embellished according to individual preferences. One can choose from a variety of fasteners: butterfly clutches, jewelry clutches, screw and nut clasps, stick pins. It is the customer who decides. We execute even the most unusual orders!
Examples of implemented projects
We manufacture bespoke products that can be individualised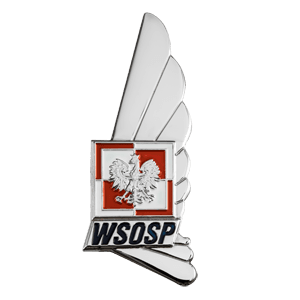 The Polish Air Force Academy
/an image of the older logo of the Academy/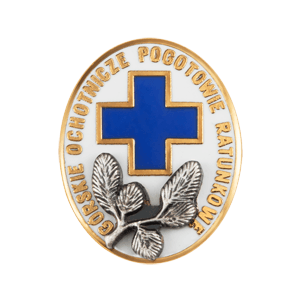 Mountain Volunteer Search and Rescue
/the Mountain Volunteer Search and Rescue member badge/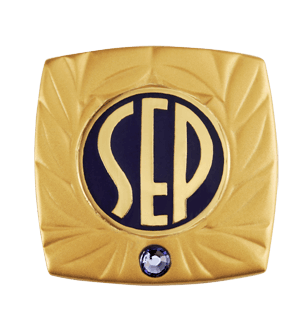 The Association of Polish Electrical Engineers
/a test model of the badge/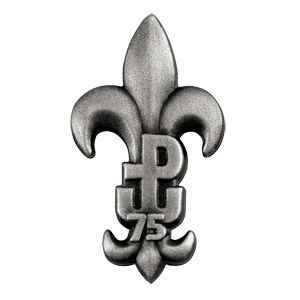 Lily of the Grey Ranks
/a badge featuring the symbol of the Polish Underground State/